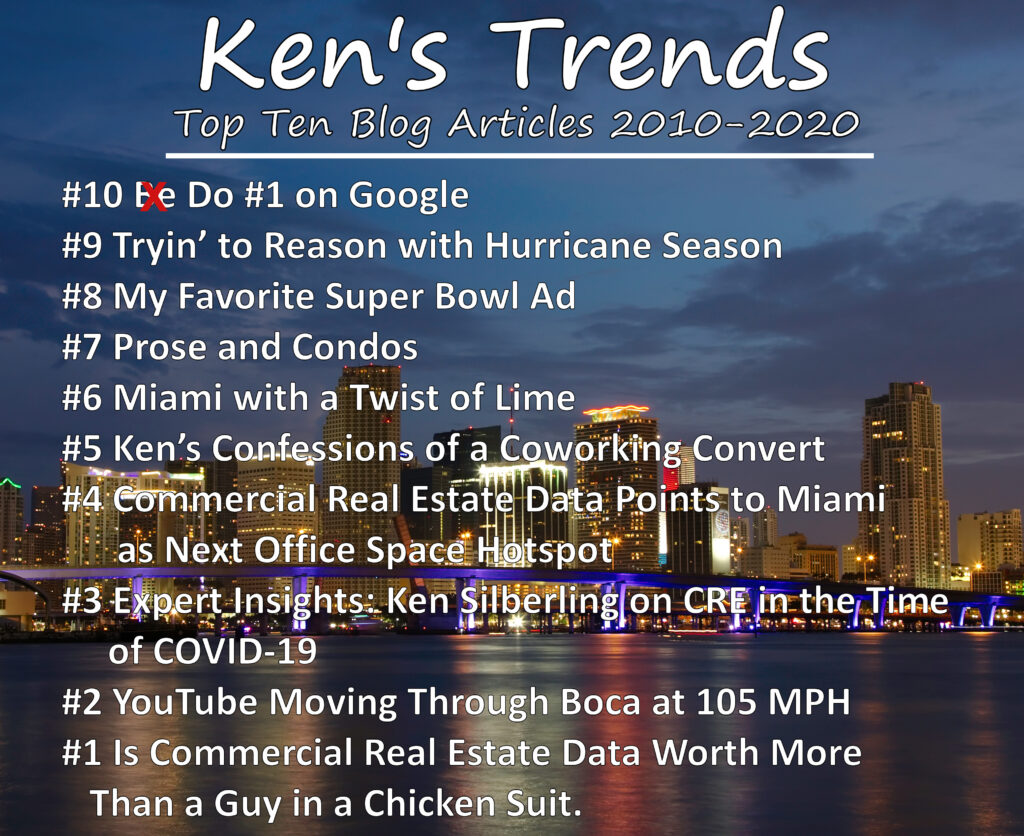 Yes, here we go – just what the world needs in these troubled times – another top ten list.
Also this month – My Summer Staycation, a Flurry of Deals and Market Outlook.
It was just over ten years ago that I started blogging as a way to improve the search engine visibility for my former firm. My content eventually found a permanent home site at kenstrends.com. I've always aimed for quality and originality as opposed to quantity. I'm proud that my work has appeared on numerous platforms including TheBrokerList, Propmodo, Commercial Café, the South Florida Office Brokers Association, and CRE Sources. While I've taken a couple of months off, I generally post articles on a monthly basis and I realize that I do need to post and repost my work to boost my following.
As much as I enjoy writing, I have realized that in our digital society, people do not sit still for long enough to read 1,000 words or even 280 characters. I have pivoted to podcasts and video and will continue to grow in those areas.
My topics generally relate to Commercial Real Estate, CRE Tech and South Florida. I try to be informative while occasionally hoping to get a smile if not a full LOL. So after the vote of a prestigious committee consisting of … myself, here are my top ten articles (plus one) in my ten years of blogging.
Honorable Mention – A lot of my early blogging promoted a champion poodle owned by my former employer and his significant other. I am a dog lover myself and I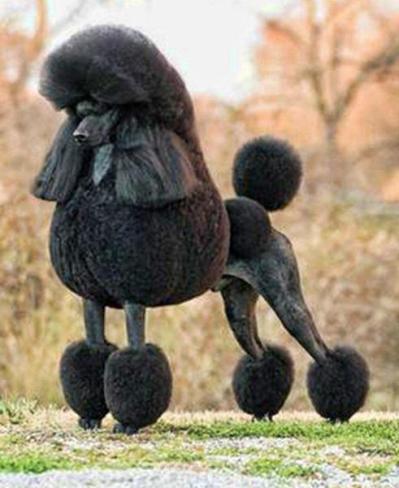 think I did a great job interviewing Josh Dean, Author of "Show Dog The Charmed Life and Trying Times of a Near-Perfect Purebred." I also produced the video on Skype long before there was a Zoom. But views of this video are in the 300s while I drew over 2 million views for a baseball video (see below). It is no wonder I am no longer with that company.
#10 Be Do #1 on Google – This first entry on the list was done just for laughs – the purpose of my blogging is to be number one on Google. This is an article I originally wrote in 2012 about a guy wanted to Do #1 on Google. KensTrends does not condone public urination
#9 Tryin' to Reason with Hurricane Season – I stole the title from Jimmy Buffet. A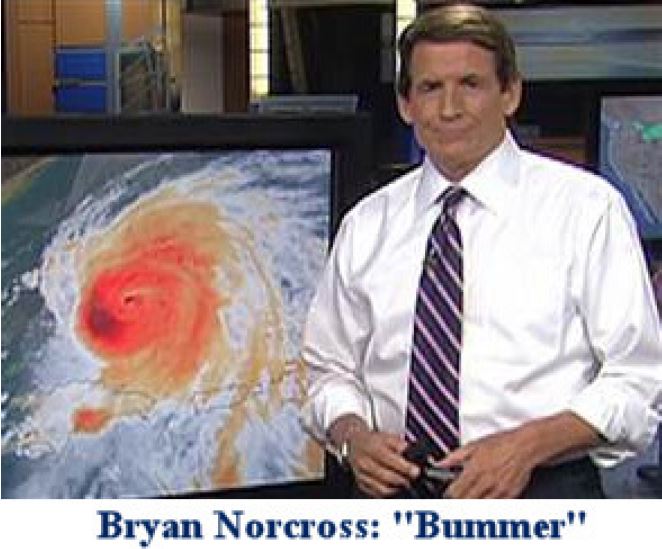 humorous look at the serious issue of Hurricanes and the relentless efforts of the media to keep you glued to the screen.
#8 My Favorite Super Bowl Ad. Did you see LoopNet's Superbowl Ad in 2012? I am one of the few who did, because the NFL forced them to pull it down. This is my commentary on cat videos and the power of Social Media to draw more viewers than the "Big Game."
#7 Prose and Condos – I closed my most recent office condo sale at the height of the COVID crisis in May 2020. Commercial condos are not for everybody, but for some companies, they are a brilliant real estate strategy. This is a series of articles on with everything you need to know about commercial condos.
#6 Miami with a Twist of Lime – With iPhone in shirt pocket, Ken shoots a video of a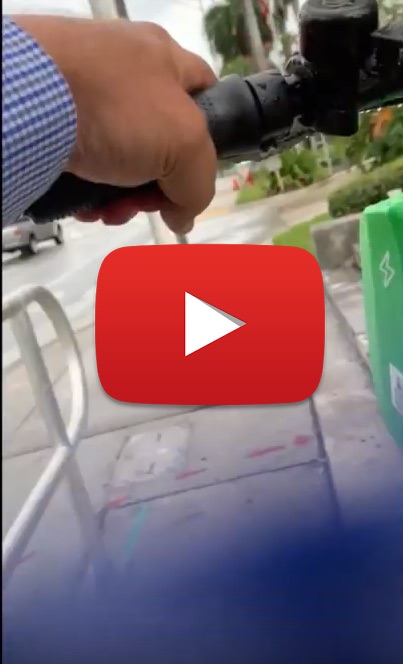 Scooter ride from his Downtown Fort Lauderdale office to Brightline and eventually to Downtown Miami. This article covers micro-mobility, its link to mass transit in South Florida and the impact on the CRE market.
#5 Ken's Confessions of a Coworking Convert Part 2 – This one actually prompted a coworker to respond "You are my favorite human". This piece compared Microsoft's traditional offices vs. coworking. strategy.
#4 Not sure if it falls into my best articles, but this one is included as it got a wide distribution via an interview I did with Commercial Café, an international Commercial Real Estate Blog and contains my insights into real estate in the COVID era. I also turned it into a podcast.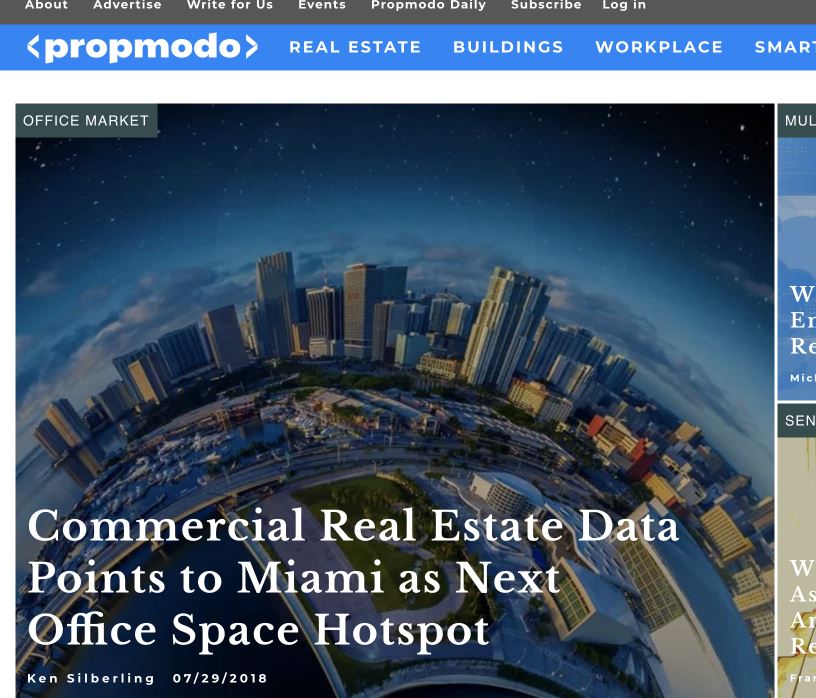 #3 Another worldwide syndication via Propmodo sharing my insights on why Miami and South Florida is such a great market for Commercial Real Estate.
#2 The significance of this one is that my 2012 YouTube video for this article is now over 2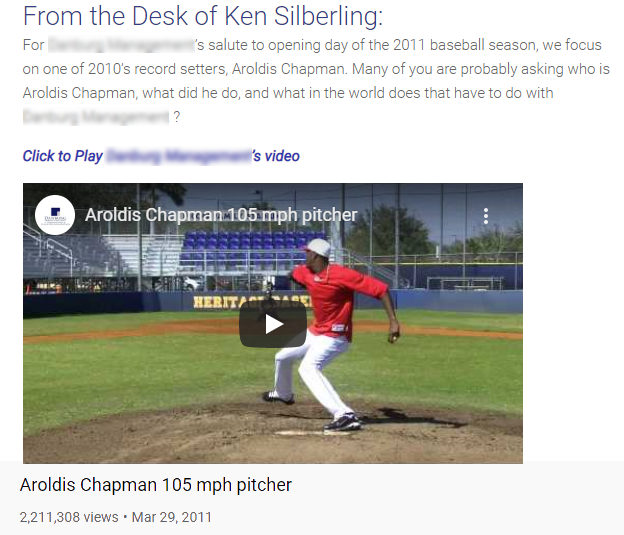 million views which has to be some kind of record for #CRE. I had leased a warehouse at Boca Industrial Park a baseball training facility. As a baseball player, coach and parent, the owners invited me to watch a bullpen session with then rookie sensation Aroldis Chapman, who at 105 mph, threw the fastest pitch ever recorded in a major league game. While my close-up video study of his mechanics generated a debate over how fast he was throwing, the views and the royalty checks from Google kept coming.
#1 First, a personal favorite and second, I am writing a follow-up. Is Commercial Real Estate Data worth more than a guy in a Chicken suit. (Although I hate to link to my former companies' blog) Ten years later,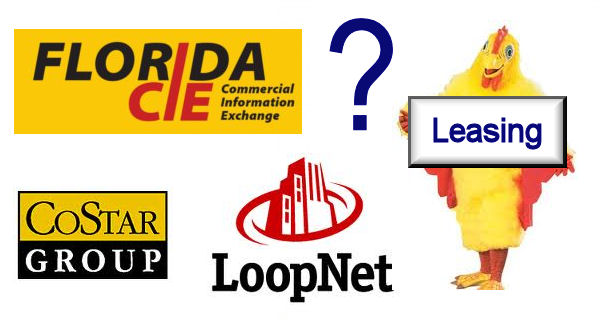 despite countless threats to disrupt their stranglehold on the market for Commercial Real Estate data, CoStar remains the undisputed king of Commercial Real Estate Tech.
So there it is – ten years of blogging. So much has changed but so much remains the same. COVID, Technology, Climate and Politics will shape the next ten years. I'll continue to share my perspective, while continuing to help my clients make the most informed decisions regarding their commercial real estate needs. Please call, text or email if I can help you buy, sell lease or analyze commercial property.