As a tenant/buyer representative, it is my mission to find value in South Florida commercial real estate. Working with office tenants throughout the South Florida market, I am finding it increasingly difficult to find space for less than $30 per square foot. Rates are now nearing $60 in Downtown Fort Lauderdale and topping $65 in Downtown Miami. In my January's KensTrends I showed how the main points of my most recent office market report still hold true today – even though I wrote the report back in 1998.
When comparing 1998 to 2020, the vacancy rates are similar. The current recovery, like that of 1998 has been the result of a strong economy, population growth, tax advantages and the lack of new office construction. While vacancy rates have risen slightly over the past 12 months, they remain only slightly above 1998's historical lows.
But one major submarket has been largely unaffected by the resurgence, which is why I see it as the be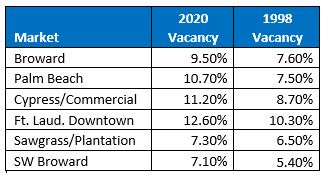 st value in South Florida. The "Submarket That Time Forgot" also happens to be where I currently have my office and where I have completed hundreds of lease transactions. I am sitting in my office in a Class-B office tower at the Spectrum Building off Commercial Boulevard, 15 minutes from Downtown, with completely modernized features and finishes and free parking – at an all-in rate in the low $20s. So my advice to business owners looking for value is to revisit Fort Lauderdale's "Uptown" (aka Cypress Creek) Market consisting of the Cypress Creek Road and Commercial Boulevard corridors along I-95.


Gross rental rates including operating expenses have increased by approximately 50% in Broward and Palm Beach County since my 1998 report, a compound annual increase of 1.8 percent. In the red-hot Southwest Broward market, rates have increased by 68.4% or 2.7% annually. At the peak of the market's resurgence from 2015 to 2018, rental rates in Downtown Fort Lauderdale increased at annual rates from 5.5 to 9 percent.
But in the Uptown market, rates have increased by 25% or only 1% annually since 1998. Rental rates average $26 in the uptown market as compared to $39 in Downtown Fort Lauderdale and $33 in Southwest Broward. In addition, parking can cost an additional $3-$4 per square foot downtown.
But you can still get uptown Class-A space, minutes from I-95 with free covered parking, for under $30 per square foot. Regarding location, in 15 minutes, you can be in Downtown Fort Lauderdale, and it is around 40 minutes to Downtown Miami or West Palm.
Cypress Creek also offers an abundance of single-story office and office/warehouse (flex) space. I personally appreciate the convenience of drive-up space without having to ride elevators and navigate parking garage ramps. These spaces can also be improved with upscale finishes to rival Class-A buildings without the added expense of upgrading common corridors and lobbies. I recently represented a tenant in the building shown above in a 2,300 sq. ft. lease with a custom buildout for well under $20 per square foot – about the same as my client would have paid 15 years ago. My favorite selling point of the Uptown market is its access to business owners and employees throughout South Florida. I live in Boca Raton while my former leasing partner on three uptown properties lived in Northern Miami-Dade County. So a property in the 954 area code could easily be represented by agents in the 305 and 561.
Yes, there is value in Fort Lauderdale's rapidly expanding Downtown market. Thousands of new residential units have created a live-work-play environment, helping to attract and retain employees. There are also great places to eat and Brightline (Virgin Trains) provides direct access to Downtown Miami and West Palm Beach. In 2018 and 2019 I worked at One Financial Plaza in Downtown Fort Lauderdale. It was nice to walk down the block and have lunch at YOLO or Morton's. I also was able to hop on a Lime Scooter (KensTrends May 2019 Miami With a Twist of Lime) for a five minute ride to Brightline or to Rocco's Tacos. But rush hour traffic on the 2 mile stretch along Broward Boulevard from I-95 to Downtown was an ordeal and $100 per month to ride the ramps to level 5 of the parking garage was no bargain. For the few times a year I have lunch Downtown or take the Brightline to Miami, I will gladly jump in the car or even an Uber for 15 minutes – and hope there is no construction on Broward Boulevard.
So what has kept rates from increasing in the Uptown market? A lot of it can be attributed to Southwest Broward. This submarket emerged in the early 1990s with the completion of the Sawgrass Expressway and I-75 providing access to Miami and Fort Lauderdale. New residential developments and Hurricane Andrew in 1992 created a perfect storm with a mass migration from South Miami-Dade to Southwest Broward. Many companies, particularly in the expanding healthcare and tech sectors capitalized on the trend, relocating from Cypress Creek to Miramar, Plantation and Sunrise. Surprisingly, Miramar in Southwest Broward is home the most Fortune 500 firms of any city in South Florida. Of the 18 million sf of new office construction in Broward County since 2000, Southwest Broward captured 6 million and its neighbor Sawgrass/Plantation 3.8 million.
In contrast, the uptown market has seen only 188,000 square feet completed since 2004. The market has always been a great alternative for companies looking to service customers along the Southeast Florida coast and attract a tri-county labor force. It is also home to Executive Airport, (FXE) the nation's eighth busiest general aviation airport. The success of the Downtown and Southwest Broward Markets has driven rents in those areas well above those uptown. For those companies seeking fast access to I-95 and affordable rental rates, Uptown is a very attractive alternative. The one missing component of this market has been residential development. While millions of people live within 30 minutes of I-95 and Commercial Boulevard, there are few upscale residential alternatives in the area. That could soon change with the approval of the 353-acre Uptown Urban Village which promises over 2,500 new residential units.
Pulte Homes is also under construction on a 405-unit residential development on the former site of the Oak Tree Golf Course at Commercial Boulevard and Prospect Road. And InterMiami CF, David Beckham's MLS Soccer expansion franchise begins its inaugural season at Executive Airport in the rebuilt Lockhart Stadium on March 14, 2020. (Can Soccer Be Successful in South Florida? – KensTrends 11-2019) So the window of opportunity for tenants and investors may be short-lived. But for now, if your company is looking for value in office space with great access to the tri-county labor market, there is still time to take advantage of the "Submarket that Time Forgot".