I recently presented highlights of my most recent office market report to the South Florida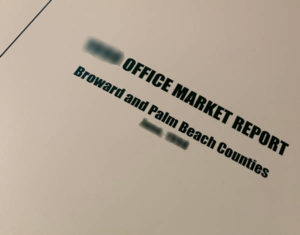 Office Brokers Association.
The key points:
Our tremendous job growth and population growth have positioned South Florida as a highly attractive investment market.
In addition, the relative absence of new construction has driven office vacancies to historical lows while rental rates are showing

explosive growth.

Firms will continue to be drawn to our market due to our warm weather, quality of life, favorable tax structure, government incentives and the region's role in trade with Latin America.
So what is wrong with this picture? While I started my career in research, my most recent office market report was written in 1998. But those points are still spot on. It seems that the more things change, the more things stay the same. So what has changed?
First, what used to take weeks and hundreds of phone calls can now be accomplished with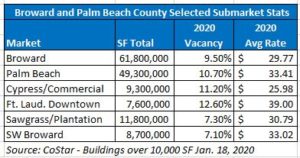 a few keystrokes on CoStar which provided the statistics here. The industry has a love-hate relationship CoStar which has become our primary source of information. While there is a lot happening in the world of Commercial Real Estate technology, and I personally spent a majority of 2018 and 2019 in the field, there is still not a worthy competitor to CoStar. The value of this data is clearly illustrated by CoStar's capitalization, which has increased nearly 1,000 times from $27 million to $24 billion since it's 1998 IPO. But CoStar provides an easy way to compare my 1998 report to the current market (which will be the subject of Part 2).
The tax environment has also changed to our benefit. The absence of a state income tax has always been an advantage. But with state income tax no longer deductible, there is additional incentive for firms to relocate from the northeast.
Another major change is the advance in technology. Back in 1998 I was rocking a 56K modem which transferred data at a rate of 7KB per second. Today, I download music over my cable modem at over 7MB per second which is 1,000 times faster. And the Iphone in my pocket has 100 times the memory, 40 times the storage and 5 times the computing speed of my 1998 desktop PC. Clearly, you can now work from anywhere – why wouldn't you want your company in South Florida?
One drawback of South Florida is a perceived talent gap when compared to other markets.


But that is changing as well. The growing population has resulted in our colleges becoming increasingly selective, attracting better students and better faculty. According to US News, The University of Florida now ranks 7th and Florida State 18th among US public universities. We have also seen tremendous growth within the state system at the University of South Florida (#44), Central Florida (#79), Florida International (#105) and Florida Atlantic (#140). My own child got a degree from the prestigious engineering school at the University of Florida only to be recruited to Seattle by Amazon. It is up to us to bring in companies that will allow us to keep our talent and our families in state.
In addition, with the influx of population, getting from point A to point B is increasingly difficult. While we have made great strides in mass-transit with Brightline and an expansion of Tri-Rail, we still have a long way to go. While mass transit will not service our western suburbs any time soon, Transit-Oriented Developments (TODs) along the major north-south routes are gaining momentum and will be a key trend affecting where South Floridians live and work in the future.
Possibly the biggest challenge is that we live in a highly fragile environment. While it may be a controversial topic, we are vulnerable to rising seas and catastrophic storms. A small segment of the commercial investment market is avoiding South Florida for these reasons.
Drinking from paper straws is a positive step, but it won't solve the problem. I believe the solution lies in research and technology and our region is poised to lead in that direction, potentially creating thousands of jobs.
Overall, the outlook for South Florida remains as bright in 2020 as it was back in 1998. Part 2 of this post in February will provide more information and a comparison of the office market from 1998 to 2020.