It's holiday time in South Florida. While we will never have a white Christmas, South Florida has its own holiday traditions. In Miami, we have Art Basel and the Orange Bowl Festival. Fort Lauderdale has its Winterfest Boat Parade. Meanwhile Boca Raton has its own tradition dating all the way back to 2014. No, it's not a star-studded salute to the early bird special at the Olive Garden, it's the annual Roofclaim.com Boca Raton Bowl at Boca's Florida Atlantic University Stadium.
In a watered-down schedule of 43 college football bowl games, 86 teams now get a coveted invitation to the postseason. The 2022 Boca Raton Bowl featured an epic matchup of #77 Toledo vs. #82 Liberty. I make it a point to record ESPN's National Telecast of the Boca Raton Bowl every year. But just like the Super Bowl, I pay special attention to the commercials.
I always fast forward to the annual ad produced by the Boca Raton Office of Economic Development and Innovation. While the game may have some importance to the alumni and students of the participating universities as well as the few degenerates wagering on it, this really is a kind of Super Bowl for Boca Raton.
It's a chance for the city to get a moment in the national spotlight. If one billionaire CEO or hedge fund manager stops to watch the ad while flipping through ESPN, it just may trigger a corporate relocation that can benefit our entire region.
This year's theme was "You Can Have It All", highlighting our beaches, our colleges, our lifestyle, our sunshine and our 12 million square feet of office space. As someone who leases those 12 million square feet, I don't have strong feelings for Toledo or Liberty. But I am a huge fan of Boca Raton and I am rooting hard for those CEOs to bring high paying jobs to our community and lease lots of office and warehouse space.
For what it's worth, the Toledo defeated Liberty 21-19, and may well have secured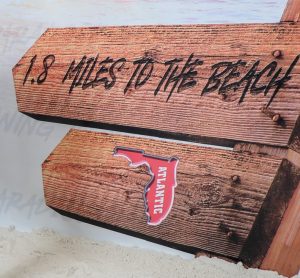 themselves a national ranking in the top sixty or seventy. But the real winner is Boca Raton and South Florida (and maybe Olive Garden) for the chance to promote our community to a national audience. In the 30 seconds of the game that I watched, I also heard the announcer refer to a directional sign at Florida Atlantic Stadium showing it was 1.8 miles to the beach. Another win for Boca! But was anybody really watching? We'll see.