I'm pleased to announce that I've joined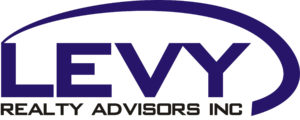 Levy Realty Advisors as Senior Vice President of Brokerage and Tenant Representation. It's basically an extension and expansion on what I've been doing for the past 30+ years in South Florida; creating value for owners and occupiers of commercial property in Miami-Dade, Broward and Palm Beach County.
I continue to work through online sources and my own relationships, but I see tremendous opportunity in aligning with Levy Realty Advisors. I've known Alan Levy for over 20 years and he has steadily built a great organization and a portfolio of over 3 million square feet of office, industrial and retail space owned and or managed.
Alan recognized that there was a large pipeline of untapped business in finding additional locations for companies in his portfolio, and finding space for companies he couldn't accommodate. In addition, we expect that by working with owners of properties across the market, we will uncover new investment opportunities to spread our footprint in the South Florida commercial real estate market.
And don't worry, I'll still be publishing KensTrends to inform, entertain and continue to generate new business. Read more at www.SFOBA.com
"I am excited and pleased to announce that after many years of knowing Ken Silberling, he will join our company to head up the Brokerage and Tenant Representation division," said Alan Levy, Broker/President of LRA. "Ken comes to the company with over 30 years of industry knowledge and experience and is well respected amongst his peers in the South Florida Commercial and Industrial market. Ken will be handling brokerage and tenant representation opportunities that we have been passing up for many years due to our focus on our own portfolio of properties."
"We feel very fortunate to have Ken represent our company," added Josh Levy, LRA COO. "This is a new chapter in the evolution of our company. Ken's extensive experience and exposure in the market will help us to continue to expand our footprint throughout South Florida. He will also bring an extended level of service to our tenant base of over 1,000 companies occupying over 3 million square feet of space."