KensTrends is back after a short hiatus. It's been four weeks since my June 13 double knee replacement. While I continue to work on deals for Truss, I am now an independent contractor with access to the Truss platform among others. More on that at a later date.
My recovery has been in the top percentile, I was off opioids less than 3 days after surgery, I'm back on my feet and walking faster than I was before, I'm climbing stairs, working on chipping and putting and hope to return to baseball in the next couple of months. I continue to work with tenants and buyers of office space throughout South Florida. But I am now a free agent and ready to explore additional opportunities.
This issue of KensTrends goes in a different direction focusing on America's opioid crisis. It comes from an absurd occurrence in my hospital stay, where I asked for Tylenol for a headache but was only authorized to receive Percocet. Even more absurd is that Percocet is a combination of Oxycodone, a highly addictive synthetic opioid and Acetaminophen (Tylenol). So I could get Tylenol mixed with Oxycodone, but I couldn't get Tylenol alone.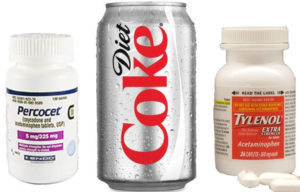 Tylenol is generally considered to be the safest over the counter pain reliever, safer than traditional aspirin, ibuprofen (Advil, Motrin), or naproxen sodium (Alleve). I consider Tylenol to be the "Diet Coke" of pain relievers. This comes from one of my favorite moments in the Austin Powers Trilogy when Dr. Evil appears on the Jerry Springer show with his son Scott Evil. He tells Scott he is not evil enough, "You are the margarine of evil, you are the Diet Coke of Evil." Hence, the "Diet Coke of Pain Relievers."

Meanwhile, Percocet is a prescription painkiller containing Tylenol and the opiod Oxycodone. Like other narcotics, Percocet is highly addictive because it attaches to opioid receptors in the brain, triggering dopamine release and associated feelings of happiness and euphoria. Many Percocet users start with a necessary and legitimate medical prescription only to tragically slip into addiction.
Anyway, rather than succumb to a highly addictive opiod to fight a minor headache, I decided I would drink a lot of Gatorade to fight my dehydration, which was clearly my best alternative. I asked the nurse what I could do about my situation and she said it was up to the hospital administration. Broward Health North, where I was recuperating, is run by the County Government and there was nothing she could do. I told her that I guess the only thing I could do would be to write my congressman.
That gave me a great idea, why don't I write my congressman (or woman)? I had never done it before, but I have a few personal connections to Ted Deutch, who represents District 22, adjacent to my own District 21 and home to Broward Health North. I was able to email Ted via the congressional website, as well as District 21 representative Lois Frankel. I also passed this along to my former office leasing partner Betty Geller who has some very strong relationships in State and County government.
Stay tuned to KensTrends to see what happens.
Here is the letter originally written to Ted Duetch and also sent to Congresswoman Lois Frankel:
This June 13th, about 4 weeks ago, I checked into Broward Health North at I-95 and Sample Road in Pompano Beach for simultaneous bilateral total knee arthroplasty or double total knee replacement. I am pleased to report that my recovery is in the 99th percentile and I feel great. This success is due to (1) getting my body into excellent physical shape prior to surgery and (2) the amazing staff at Broward Health North which is a credit to a highly successful public-private partnership.
I am very proud that I had the surgery on a Thursday morning and I took my last opioids, 2 Percocet, at 10 AM Sunday the 16th, less than 3 days after surgery. Since then, I have been off opioids and have treated the pain with ice, and the over-the-counter remedies ibuprofen (Motrin) and acetaminophen (Tylenol).
My only complaint, and the purpose of this letter is the way that these opioids were offered to me by the staff. This was a matter of policy. I understand that the nurses were only following protocols and would be risking their livelihoods to go against them. I was smart enough to refuse the opioids when offered. I understand how dangerous these drugs are. I also know that regardless of which side of the aisle you sit on, controlling opioids is a national issue that should unite all Americans.
I checked into Broward Health North on Thursday morning June 13 and had the double knee replacement performed in the 2nd floor operating room. By late that afternoon I was in recovery. The next day, they had me up on my feet in the 3rd floor joint replacement center and I started physical therapy. At that point, the use of Percocet and OxyContin was warranted as the procedure involved saw cuts to both major leg bones and the therapy was extremely painful. By Saturday, I was transferred to the 4th floor inpatient therapy center. Prior to my physical therapy on Sunday, less than 72 hours after surgery, the pain specialist recommended I take 2 Percocet and I agreed. That was the last time I used the opioids.
I was looking forward to going home on Friday the 21st, 8 days after surgery. On the night of the 20th I believe my body was draining itself of the much of the fluid buildup on the knees. I was using a bedside urinal and had filled up a liter bottle and would eventually fill a second. I felt a bit feverish and weak, but having grown up in the South Florida heat, I recognized the signs of dehydration.
I called the nurse and twice had her bring me about a liter of water to drink. I also had a slight headache when the nurse came in around 3 AM. Here's where things could have gone totally wrong. I asked for some Tylenol which would gently relieve my headache. But my last dose of Tylenol was at 1 AM and I was scheduled for Ibuprofen at 5 AM. The nurse could not offer me Tylenol or Ibuprofen. But I was authorized to get Percocet on demand and she could bring them to me immediately.
I explained to the nurse how ridiculous it was to offer an opioid for a minor headache after five days of narcotic-free recovery. She agreed, but rules are rules and I understand that she could not offer me anything more mild than Percocet without putting her job at risk. Ultimately, I drank a lot of water mixed with an electrolyte enhancer that basically turns the water into Gatorade. The mild headache was cured by hydration and I didn't need the Tylenol or the Percocet.
The point here is that I have no medical training, but I know enough about my own body to help guide my own recovery. I am likely in a minority of patients that understand the danger of taking the Percocet. If even one patient at this point were to give in to the opioids and later spiral into drug dependency, it would be one too many.
I am not an expert on policy and do not necessarily have a solution, I just want to point out a problem that needs to be addressed by professionals. My suggestion is that (1) patients need to be warned every time that they are offered narcotics that those drugs may be habit forming and (2) any time a patient is offered an opioid pain reliever, they should have the opportunity to substitute an non-opioid alternative.
In my discussion with the nurse, I joked that it would take an act of Congress to change the obviously flawed rules. That's when it occurred to me that it was my right and my duty as an American to write my Congressman. I live off Glades and Lyons in unincorporated West Boca Raton and Ms. Frankel is my congresswoman. But Ted, you may remember me as I toured office space with you off I-95 and Congress at 950 Peninsula Corporate Circle. My daughter Amanda was also at Waters Edge Elementary with your girls, and my Brother-in-Law, Roy Kobert was your partner at Broad and Cassel. I am also copying my good friend and former business partner Betty Geller to pass along. Betty is the wife of State Representative Joseph Geller and sister-in-law of Broward County Commissioner Steve Geller.
I believe this is an issue that needs to be addressed and I am happy to help in any way I can. Again, I must emphasize I have only the highest praise for the wonderful staff at Broward Health North. Thank you for your consideration.