Did you ever wish you could go back to preschool? Those carefree days of fingerpainting, show and tell, field trips; and who couldn't use some nap time. In New York, adults pay $333 to $999 to re-create the preschool experience. Well, we have a better idea. Why not own your own preschool. It may cost a bit more at $3.5 million, but it's a great investment opportunity presented by Capital Business Solutions and Stigliano Commercial Real Estate.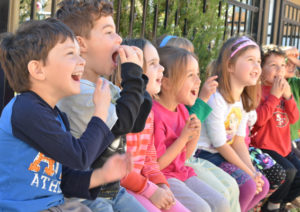 Education has become big business. The preschool industry continues to grow rapidly due to the demand created by dual income households, and the increased realization of the importance of early childhood education. Between charter schools, private schools, and preschools, we are seeing tremendous investment in education properties. Charter schools and preschools with Voluntary Pre-Kindergarten (VPK) programs also receive some of all of their revenue from the government which is very attractive to investors. School buildings also attracting some impressive prices per square foot (see below) and have become prime triple net investment targets similar to a Starbucks, Wawa or Walgreens, selling at cap rates of 6 to 7 percent. The U.S. Bureau of Labor Statistics projects that education will be one of the strongest sectors for employment growth through 2020.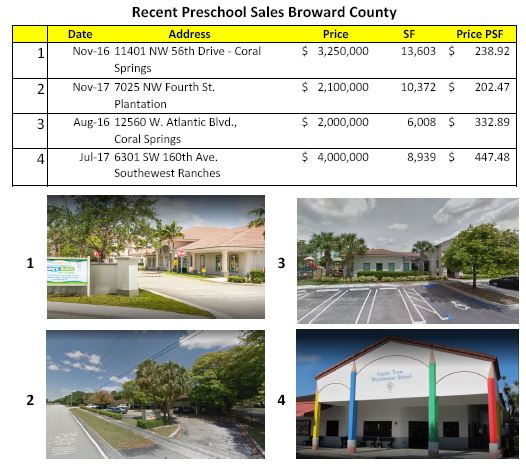 The Learning Experience, founded in 1980 in Boca Raton, is a prime example of how child care has become big business. The company was sold in 2014 to New York-based private equity fund Quad Partners and Palo Alto, California-based Norwest Venture Partners. They recently leased a 39,000 sf corporate headquarters here in Deerfield Beach. Their school buildings have become prime triple net investment targets similar to a Starbucks or Walgreens, selling at cap rates of 6 to 7 percent based on the stability of the industry and the financial strength of the tenant. The Learning Experience's long-term plan is to have 30 to 40 facilities in South Florida.
Other major national players in the industry include Kindercare, Learning Care Group (La Petite, Tutor Time) and Bright Horizons. But the business remains primarily fragmented among local entrepreneurial owners. According to IBIS World, only 7.3 percent of the $48 Billion in industry revenue is generated by the top four providers in the market. So for those entrepreneurial owners, Capital Business Solutions is marketing an 11,000 sf preschool on 2+ acres which generates $750K per year in revenue with room to grow. Contact us for more information. Do you own a preschool? We are also working with some active buyers looking to expand their operations.