This is something I wrote for The South Florida Office Brokers Association (SFOBA) blog and also published on www.breg,net. Over 300 of the top Commercial Brokers in South Florida are SFOBA members. We share deals and information at our monthly meetings with an average attendance of around 70. We also have some great guest speakers and can pass along some useful information.


And for some shameless self promotion – you don't need $340 million to own some great office space in Boca Raton. I have up to 18,000 square feet of great office condo space and you can own it for less than the price of leasing!
The South Florida Office Brokers Association meeting for June 2015 was held at One Town Center, the former Tyco building located within the complex now known as Boca Center. Our guest speaker Angelo Bianco of Crocker Partners told us that most locals still know Boca Center by its former name.
The iconic mixed-use complex located along Military Trail south of Glades Road in Central Boca Raton contains office space, a Marriott hotel, and upscale shops and restaurants. It has been used as a case study by the Urban Land Institute for excellence in a mixed-use project. The property was originally developed by Crocker and Company back in the mid-1980s and is still widely known by its original name, Crocker Center.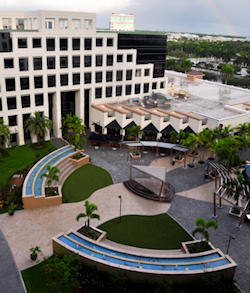 Over the years, the buildings were sold to Teachers Insurance and Annuity and Met Life. But over the last 12 months, Crocker Partners has invested more than $340 million in Boca Raton, reacquiring the shops and towers at Boca Center, The Plaza and One Town Center. Just north of Boca Center, Crocker also acquired the 277,000 sf One Boca Place, the longest and largest office building in the market. So even if Boca Center is not renamed back to Crocker Center, the running joke is that maybe the city should be renamed Crocker Raton.
What is not a joke is that Crocker Partners now controls 94% of the vacant Class-A space in the Boca Raton office market. According to Mike Erickson of CBRE, who leases the Boca Center properties for Crocker, "office rental rates north of $30 per sf triple net (which is over $40 including operating expenses) are the new normal in Boca Raton. Vacancies are down and construction is flat so we are going to continue to push rental rates."
In order to justify the higher rental rates, Crocker Partners will be upgrading the properties to compete in today's market. One Town Center will be positioned to continue to appeal to private equity firms. The Plaza, the black office tower anchored by Wells Fargo, will be modernized and positioned as an ultra high-end concierge building targeted toward upscale local tenants. It will be priced at a monthly dollar amount rather than per square foot."A contemporary building with timeless appeal" said Bianco. All of the buildings will also offer valet parking.
The biggest changes will involve the retail space,which will be re-oriented for street visibility. "Don't turn your back on the street" said Bianco. The restaurant space at Boca Center will surround an o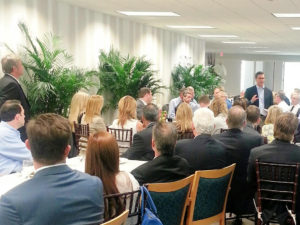 pen courtyard to COCcreate more of a synergy, and a gym and a spa will be added to the hotel's lower 2 floors.
Plans also include the addition of multi family units to the project to capitalize on the current urbanization trend. The idea according to Bianco is to combine the upscale shopping experience of Miami's Bal Harbour shops or Palm Beach's Worth Avenue with the trendy local appeal of Delray Beach's Atlantic Avenue.
Will Crocker be able to raise the bar on rental rates in Central Boca? Can they repeat their earlier success with an updated Boca Center? And will the City Council consider renaming the City Crocker Raton? We'd like your opinion.